2009年04月04日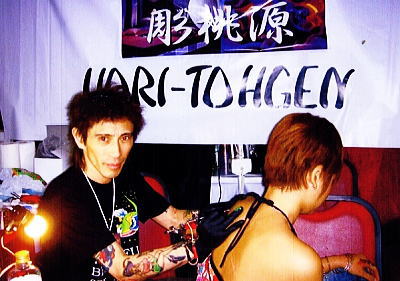 Kenny Shangrila
I was born in1959 and I am a tattoo artist working in Yokohama city Japan.
My tattoo style is a mix of Old and New School (Sailor Jerry style).
Maybe, I'm a oldest Sailor Jerry Style Tattoo Artist in Japan.
I am also a guitar player and singer in the rock and roll band Junk Dolls. I have been playing music ever since I was a teenager (back in the 70's I was in a rockabilly band and played venues in Shinjuku, Shibuya, and Harajuku). I love the 70's punk rock sound, Johnny Thunders (of course!) and Garage bands.
Hometown: Yokohama city
Country: Japan
Occupation: Tattoo Artist
Companies: Kenny Tattoo Studio
Interests and Hobbies: I Love Great History of Tattoo Art/ Gothic Punk Style/ The Dark Side/ Vampire/ 50' 60' Antique/Motercycle and Rock and Roll Music.
Movies and Shows: Chet Baker, Let's Get Lost. Rockey Holler Picture Show
Music: New York Punk. Garege Sound. 1950, 60's Rock and Roll New York Dolls. Johnny Thunders. T REX. Bob Dylan Chuck Berry.
Books: I Love Beat Generation